For my third twitter chat, I participated in the Early Childhood Education Chat, (#ECEchat) which was absolutely perfect for me since I'm an Early Childhood Education Major! The chat took place on Tuesday, October 18th at 9:30 PM.
I joined in the chat a little late, but I did get involved! I introduced myself to everyone and a woman named Heidi Veal (@VealHeidi) responded to my tweet, welcoming me to the chat. She is an assistant principal for an Early Childhood Education school filled with all preschool aged students and has worked in schools for 15 years.
The topic of this chat in particular was centered on digital portfolios. There was a twitter page dedicated to the chat called ECE Chat (@ECEchat). This page tweeted all of the questions while another participant, Jonna Mcgaughy (@drmcgaughy) hosting the chat for the evening. The questions asked by the chat were as follows:
People responded to these questions by tweeting A(number of question): their response and the hashtag #ECEchat. I found some really good responses throughout this chat. A lot of people said the same thing I did regarding the greatness of the use of digital portfolios: that they connect a child's home and family life and make communication more accessible for both ends. I honestly didn't know digital portfolios were a thing until this chat. A lot of people mentioned Seesaw as a website for digital portfolios. http://web.seesaw.me/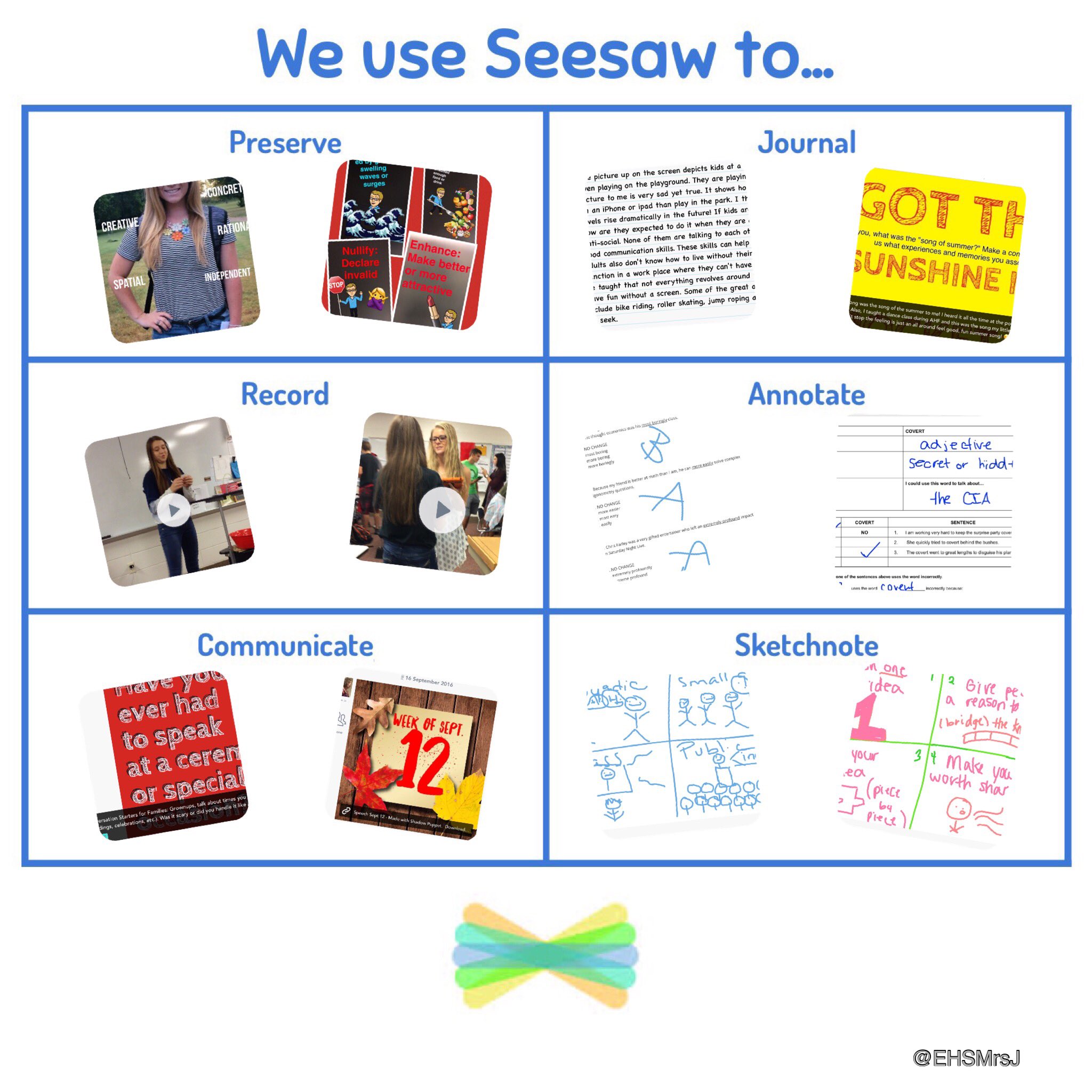 I flipped through the site and it seems like a really interesting and engaging online resource for students, families and educators. I think it would be really helpful, especially with young children since in today's day they are totally geared towards technology. The guest host of the chat also posted a video from Seesaw on the chat: http://bit.ly/2esBeFH .
The five people I followed are the #ECEchat twitter page (@ECEchat) Heidi Veal (@VealHeidi), Elaina Reuther (@reutherey11), the guest host of the chat, Jonna Mcgaughy (@drmcgaughy) and a woman named Julie Jacobs (@EHSMrsJ). I followed the twitter page of the chat to keep up with the questions during the chat as well as to keep an eye out on when there are more chats in the future so I can get involved and speak with more educators. I followed both Heidi and Elaina because they both responded to me when I introduced myself in the chat. Elaina is actually a pre-service student too. She is a freshman early ed and special ed major at Grove City College. I followed the guest host of the chat to also stay updated throughout the chat and to look out for her involvement in other chats later on. Julie Jacobs is the woman who posted the image regarding Seesaw that I posted in the blog post earlier. She also had some good responses throughout the chat and decided to follow her because I liked what she had to say.
Overall, I didn't really like this chat. When I tried to get involved NO ONE answered or responded to me. The only response I got was from both Heidi and Elaina when I introduced myself. I responded to questions and asked my own general questions in the chat and no one responded. I feel similarly with this chat and my second chat: that it was hard for me to get involved because I'm not a teacher who can offer my input, personal experiences and advice in the chat. I feel as though I would've enjoyed the chat more if I could respond to the questions with my own experiences or if people would've responded to me. It wasn't that there was no action in the chat, people just didn't answer me. I don't think anything will compare to my first chat though, that is still my favorite one!
*I didn't post photos of the chat because of the technical issues that we have been previously facing. If you would like pictures just let me know and I will be more than happy to add them! Let me know if these other pictures come up! Thank you!**