For this weeks twitter chat, I participated in the #2ndchat on Wednesday, November 9th at 8 PM. I really enjoyed this chat because second grade is my favorite grade level and I would love to teach it one day. I also really enjoyed this chat because normally I don't get that many responses to my questions when I participate in chats, but in this one is was quite the opposite! When I tweeted a question I would get at least 2-3 replies, which was really helpful.
This particular chat focused on iPad integration in the classroom, which is perfect since we just learned about apps last night as well as the fact that my PIP is centered on iPad 1:1 integration in the classroom. The chat was composed of 6 questions with one being asked about every ten minutes. The questions were:
1.) What is the difference between using iPad and using iPad for learning?
2.) What are your go to apps in the classroom?
3.) How do you use iPad for numeracy?
4.) How do you use iPad for literacy?
5.) How do you use iPads in a social studies or science environment?
6.) What new idea will you try with your students?
The chat was led by the moderator, Karen Lirenman (@KLiernman) who posted the questions and responded to almost everyone's responses. Karen and another chat moderator, @MrSwideen co-wrote a book together titled, "Innovate with iPad." I learned a lot about different apps that some current 2nd grade teachers use in their classrooms. One app is called Seesaw, which is a "super versatile tool that is used to capture and reflect learning. It has lots of embedded tools like voice recording, drawing, and it also allows parents to link to their child's portfolio so they can see everything that the child is posting and be engaged an involved in their child's education." I really liked the idea of this app because I think parent involvement is key to a student's success. Others were talking about ChatterPix, which is an app that allows students to make anything talk–pets, friends, doodles, etc. A lot of people really recommended that application to me. The moderator of the chat sent me an image of the 5 apps her books features: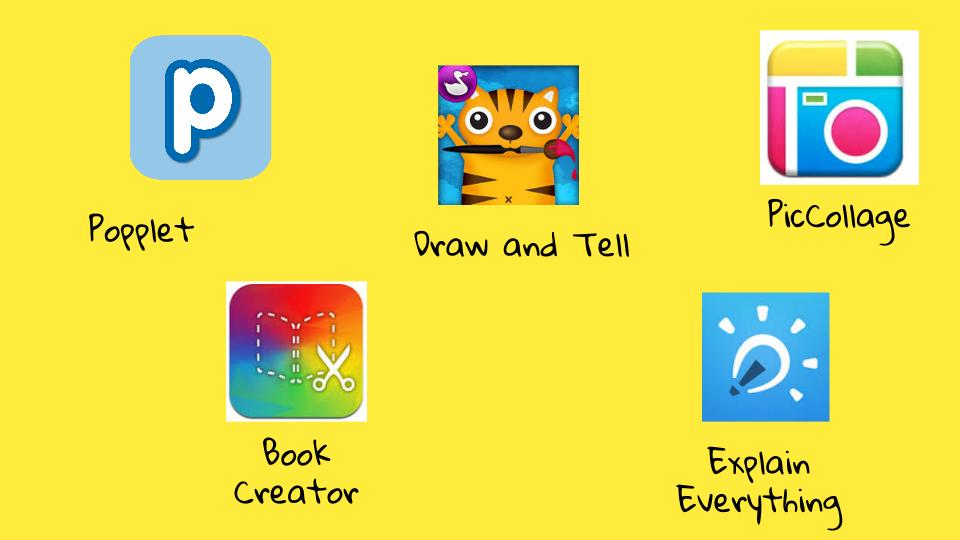 Others were giving me examples as to what they use the apps for in their classroom. One teacher told me that they did election videos with the chatterpix app, and that students would take pictures of the principal and have him endorse their person.
I asked the entire chat about if their school districts provide their classrooms with iPads, and if so does each student receive their own and do they have an apple tv? I received responses from about 5 teachers and the general consensus was that either each student had their own or they had enough for each student but had to share the iPads with other classrooms. In my previous blog posts about my other chats, I stated that I felt out of place because I didn't have my own personal experiences to share as a preservice teacher talking with actual everyday teachers, but I did not feel that way in this chat. I felt like I could participate and be engaged and that I learned a lot from all of those who responded to me. At the end of the chat, I said my goodbyes and thank you for sharing their wisdom. One woman tweeted back at me saying, "We are always here if you need us. Twitter is the best resource!" (Carol McLaughlin @missmac100) and it made my entire night. A complete stranger, who I met over the internet, was reaching out to me saying I could come to her at anytime. I was honestly so touched by this.
The five people I followed where all people who responded to me and were interested in sharing their experiences and wisdom with me. I followed both moderators of the chat, Karen Liernman (@KLiernman) and Kristen Wideen (MrsWideen). I also followed Carol McLaughlin (@missmac100), Lisa Boeglin (@LBoeglin) Jackie S (@jsherm8), Eileen Mulligan (Mrsmulligangr2) and Theresa Terri Cullen (DrTerriOU). All of these women interacted with me and shared their wisdom with me, so I just had to follow them for more.
Some of the links that were shared with me were sites used in their own classrooms. This link was shared with me by Kristen Wideen. http://apple.co/2fEQkqR
The link was just the full description for the chatterpix app and the direct link to download it.
This link to the article was also shared with me and I found it to be not only very interesting, but a good read. http://nyti.ms/2emhAJA
This chat is hands down my favorite chat I have done all semester. I definitely plan to participate in it even after the course is done because of how engaged I was and how friendly everyone was to me.
Normally at the end of my blog I post pictures so you can see the tweets I mentioned in the post. Carol sent me a storify of the highlights of the chat! It's kind of long, but I am in there because I watched! http://bit.ly/2fni6bZ